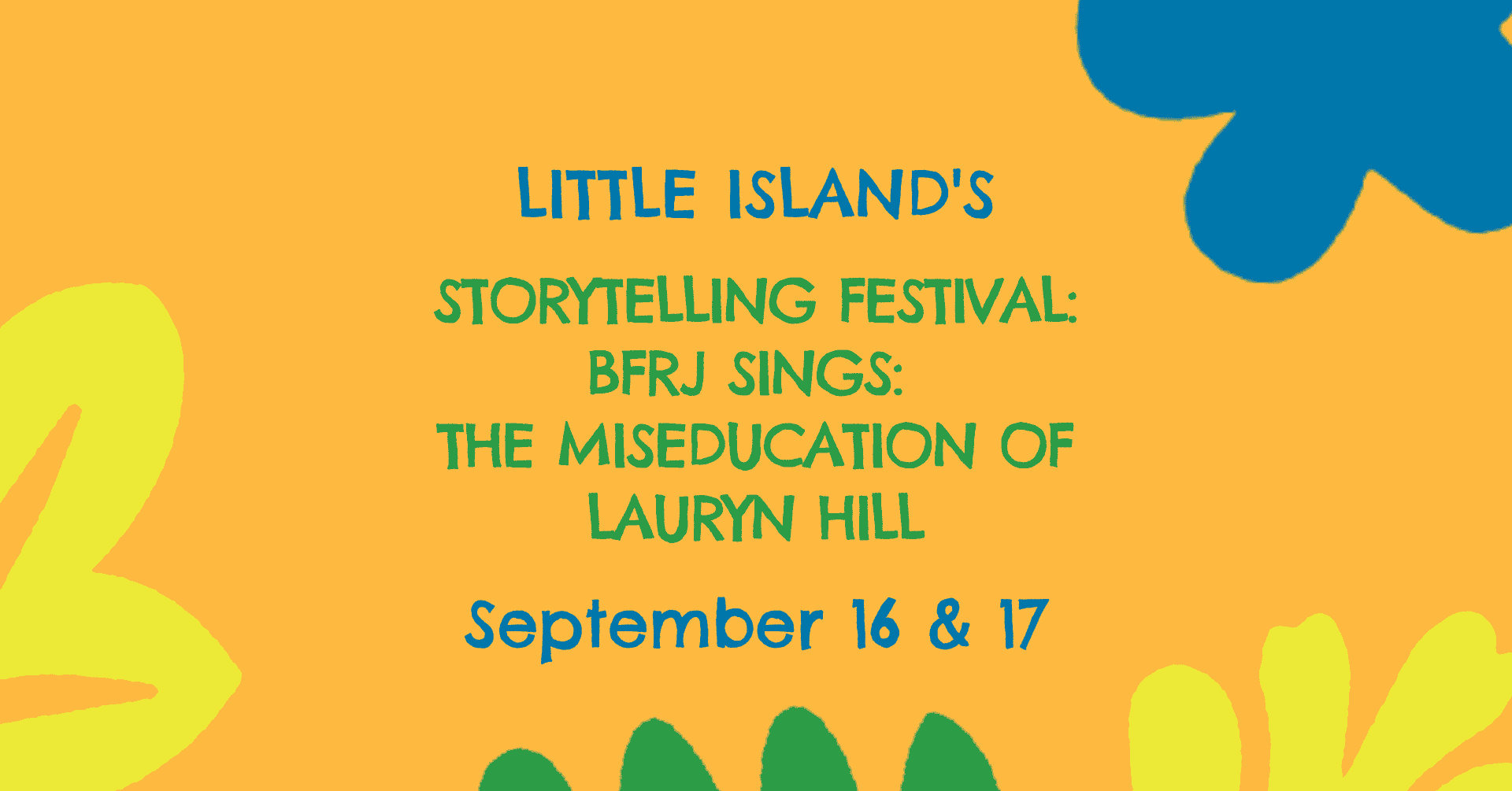 BFRJ Sings: The Miseducation of Lauryn Hill
The Amph
Little Island is extremely proud to present BFRJ Sings: The Miseducation Of Lauryn Hill. Encompassing rap, R & B, gospel and neo soul, this five-time Grammy-winning album from 1998 has been called one of the most influential albums of all time but has never been theatricalized until now. You won't want to miss this electrifying concert event featuring a cast that includes Nora Schell, Lianah Sta. Ana, Aury Krebs, Sarah Hamaty, Darron Hayes, Josh Walker, and Jae WB, with direction by Jess McLeod, co-music direction by Malachi Mabson and Paul Johnson, and Choreography by Ari Groover. Brandon Michael Nase will produce/music supervise with Cindy Tsai serving as associate producer. Further casting to be announced soon!
*This performance will contain the use of adult language.
Broadway for Racial Justice is a BIPOC-led organization founded in June of 2020 with a mission to bring transformative change to the theatrical community at large. BFRJ fights for racial justice and equity by providing immediate resources, assistance, and amplification for BIPOC theatre artists. In doing so, BFRJ helps create safer spaces throughout the theatrical community for creativity and artistry to thrive. For more info on BFRJ and our initiatives, visit BFRJ.org.
Sarah Hamaty is overjoyed to be making her Little Island debut with the incredible artists and music that encompasses BFRJ and The Miseducation of Lauryn Hill. There is no greater gift that making music. Follow her on IG @sarahhamaty, to catch Sarah with her band, playing her solo show Purple Reign all around NYC. Love and gratitude. For LD.
Josh Walker is a NJ/NY singer, actor & composer! One of his past favorite roles is Tom Collins in the RENT 20th Anniversary National Tour! He also has gotten the opportunity to perform his original MT work at Rockwood Music Hall. He is blessed to be surrounded by artist & dedicates this show to all the dreamers out there!
Lianah Sta. Ana Lianah Sta. Ana is an Asian-American artist of Filipino descent and recent graduate of Columbia University (B.A. Ethnicity and Race Studies). Although primarily an actor, her artistic passion lies in creating original work. Her work, situated at the intersection of Filipinx/FilAm culture, history, and memory, combines theory with practice to empower audiences and encourage critical consciousness. She is currently developing an experimental musical theater piece titled Performing Filipina. Spotify, etc.: Lianah Sta. Ana
Aury Krebs: Aury Krebs is a Queer Brooklyn-based artist who is committed to the exploration and elevation of dynamic, intersectional storytelling. Off-Broadway: Darling Grenadine (Roundabout Theatre Company), A Letter to Harvey Milk (Theatre Row). Regional: HOOD (Asolo Rep). TV/Film: Leverage: Redemption, Way Down: A Queer Webseries.
Darron Hayes is ecstatic to be a part of this concert and to be working with BFRJ! Off Broadway: Notes From Now. Regional: The Muny, Denver Center for the Performing Arts, Music Theatre Wichita, Asolo Repertory Theatre, Two River Theatre, and JAG Productions where he premiered in the fist ever All-Black Next To Normal. Gratitude to Brandon Nase. All the love always! darronhayes.com @darronhayes_
Jae W.B. (She / They) is a NYC singer, theater artist, and night life performer. Jae made their off broadway debut as Thorn in Bruise & Thorn at A.R.T. / NY. She has been featured in TheGrio, Them. & Paper Magazine with former label TransTrenderz. Jae can be seen hosting piano bar Sundays at The Spot with Yasuhiko Fukuoka. She is a regular face at Birdland's The Lineup, Club Cumming, and more. Catch their most recent appearance as Xavii in the radio play Pastel Color Ripples for New Light Theater Project.
Nora Schell graduated from The University of Michigan with a BFA in Musical Theatre and a minor in Gender, Race and Nation. They received Drama Desk, Drama League and Clive Barnes Award nominations for their performance and Off-Broadway debut in SPAMILTON. Nora made their Broadway debut in JAGGED LITTLE PILL. With their educational background, Nora continues to cultivate a career focused on the intersection of performing and social justice.
For more info on BFRJ and our initiatives, visit BFRJ.org.
*This event is part of Our Second Annual Storytelling Festival.